Collector Rudraksha Yantra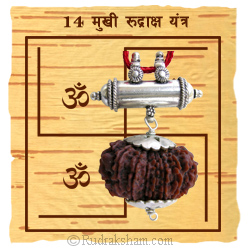 The Collector Rudraksha Yantra Kavach Section has Collector Rudraksha Silver Caps Pendant along with the Rudraksha Yantra Made on Bhoj Patra. This Bhoj Patra Yantra is Energised and then placed inside the Silver Kavach. The Rudraksha Yantra Kavach Pendants are available for 1 Mukhi Rudraksha, 2 Mukhi Rudraksha, 3 Mukhi Rudraksha, 4 Mukhi Rudraksha, 5 Mukhi Rudraksha, 6 Mukhi Rudraksha, 7 Mukhi Rudraksha, 8 Mukhi Rudraksha, 9 Mukhi Rudraksha, 10 Mukhi Rudraksha, 11 Mukhi Rudraksha, 12 Mukhi Rudraksha, 13 Mukhi Rudraksha and 14 Mukhi Rudraksha.
We at Rudraksham have been working diligently for many years with our Guru and Yogis to unlock the hidden power of Rudraksha. We could know the hidden and most powerful methods to unlock the true potential of Rudraksha. A simple Puja or blessing is not enough. We have been recently blessed with a New Power for unlocking the true potential of Rudraksha with the blessings of Lord Shiva and Guru Maharaj. Our process uses the hidden methods passed only from Guru to Disciple. In this process the Rudraksha Yantra on Bhoj Patra from 1 to 14 Mukhi are used for calling upon the respective deities for residing into the particular Rudraksha for ultimate results. During this time we are deep into the Sadhana with full focus and attention. These Yantra can also be put at the alter for daily Puja. These Yantra and Rudraksha with their Deities always bless the wearer to fulfill their desires and assures win in all his accomplishments. 1 to 14 Mukhi Rudraksha Yantra Kavach can also be worn simultaneously without any ill effects. Place your faith in the best and you shall see the Divine Blessings come to full fruit in your life.